Difference between revisions of "PREMIER Schedule"
Jump to navigation
Jump to search
---
Latest revision as of 08:32, 23 February 2021
General Information
It is essential for the design of experiments to establish a suitable time schedule. Especially for medical doctoral students with a very limited time window for their experimental work, a realistic schedule is essential. Important time points or milestones should be defined.
Statements on experiments requiring approval should be planned in advance.
Template Overview Plan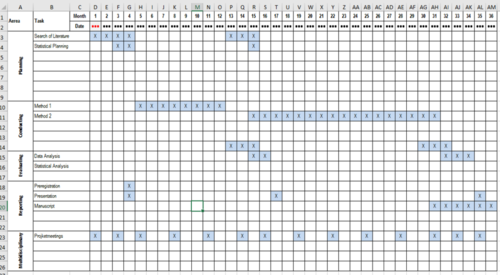 You can download the timetable as File:Versuchsplanung 20180718.xlsx file.
Alternative: Electronic Project Management Tool
User accounts and new projects can be applied for on the following page: Apply for Open Project account and Project.